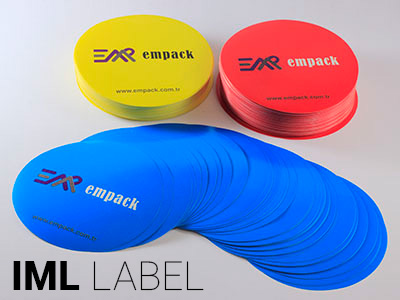 ABOUT IML
Plastic Caps
These caps are very useful to keep the products in a good condition until their consumption and to maintain their freshness for a
longer period
after the tear-off caps are opened on can or carton boxes in such food items as canned foods, canned meat, coffee, powder drinks, assorted nuts, cheese, milk powder, wafer sticks, etc.
Let's Get to Know In-Mould Labelling (IML)
IML is made of Polypropylene (PP) and is one of the
latest innovations
in plastic packaging sector. In IML system, labels are placed in a mould via using a robot before plastic caps are produced. Caps and labels are integrated during injection. The product obtained has high printing quality and lively colors and it also gives an impression as if there is no label.
An Attractive Look and Promotional Advantage
IML gives you a promotional advantage with its attractive and impressive look on the taps, quite visible over the shelves. Visuality plays an important role during product sales as an advantage.
Healthy and Useful
IML makes the caps more durable as they give an extra surface over the caps. When compared to carton labels, they are more durable than them as moisture and corrosion do not affect them. During production, hygienic products are obtained as IML is applied via using robots.
Easy to Recycle
The product is completely recycled as both the label and caps are made of the same raw materials (PP). Therefore, they are environment-friendly.
Low-Cost Efficiency
Simultaneous production of both IML and plastic caps enable a faster production period and stickers are an important factor in reducing production costs when compared to labels. The products are visually more attractive and have higher quality with lower costs.
In short, the result will be cost-efficient, high quality and visually attractive.